Here's again a foreign specialty, but this time coming form Italy. That's a small album to put stickers. A little bit like the football players vignettes that could be bought in small package. I suppose that it's the same system but I've never seen any of these stickers somehow else than (very badly) stuck in the book I bought in ebay. I'd like to find the packages in which the stickers were sold, they are very collectable.
This album was printed by the Italian society Vallardi in 1990. The characters are the 1988 ones. It is GORGEOUS, colorful and well illustrated. We learn many things on the live in the Merry Muffin Land. We discover a new character too, like in the German tapes. This new character is called Paneamaro.
According to what's written inside the cover, the album cost 1500 Lires. The packages with 30 stickers 1000 Lires and 100 for one sticker alone. There're 240 places to put the stickers in the album. But I don't know if there were bonus images that were not to stick in the album. That happens sometimes.
You have to know that the Italian people are really skilled, they managed to draw Apple Amy with green hair. Actually the doll has black hair and that's how she's drawn usually.
I have two albums (both the same) and on one it's written "I.P." in the lower right corner and "OMAGGIO" in the upper right corner. And nothing on the other. I learned for an italian girl that this OMMAGIO book was given free of charge to kids.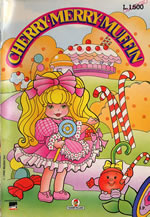 Click on the cover to see the other pages.
If you possess an album where the stickers are better stuck than in mine, I might be interested to show it on this page. And if you see anything wrong on this page, and if you possess more information about the new character or if you have a better translation for the stories, please contact me.